SPUC Welcomes Your Help as We Move Forward
By Peg Orcutt-Tuddenham
President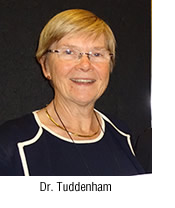 I sometimes think I chose pediatrics because of the honesty, potential, and energy of youth. The Society for Pediatric Urgent Care is in its toddlerhood…young, energetic, and clearly focused on the future.

SPUC has clear goals for the coming year. First and foremost, we need to build our membership. We are just shy of 200 members, a goal we need to surpass to stay financially healthy. More importantly, it is the intellectual energy and sharing between members that makes membership worthwhile. We serve ourselves as we exchange ideas and support the enterprise, research and practices of our fellow pediatric urgent care providers. Each of us should, and can, recruit members whenever the opportunity arises. Get your whole group to join! Group membership is encouraged with an annual discount based on the number of members and their willingness to participate in group billing.

We want to encourage scholarly publication and support research. We want to extend our recognition in pediatric circles and are excited about the subcommittee for urgent care of the AAP Section on Emergency Medicine. Through the subcommittee, our members will participate in charting the political course for our practice model.

Over the next 12 months, there are two significant educational offerings. PM Pediatrics' Second Annual PUCC is in Puerto Rico in late March. SPUC is proud to be a co-sponsor. Our own SPUC meeting in September will be in Atlanta at the Westin Buckhead September 20-22, 2016. Both meetings will have excellent didactic speakers as well as hands-on skill sessions and practice management information. The SPUC meeting in September will again offer a half day leadership summit for medical/nursing/ and business leaders from Pediatric Urgent Cares. Specific information about both meetings can be found on our website.

The SPUC ListServe is alive and waiting for participation. It is easily accessed through the Members Section of our website. There is a link to click if you have forgotten or misplaced your password. The ListServe is monitored by SPUC Board members and is a members only benefit.

Finally, we are looking for members interested in serving on some projects. Please let me know if you are interested in working on creating a certification process for pediatric urgent care sites or would like to contribute to the growing Clinical Advisor section.

Look me up if you are in Puerto Rico, use the ListServe, or feel free to email me: navyblu@frontier.com

I want to know your thoughts and ideas about this young and exciting group!